Recently, the first complete vehicle of the one-piece die-casting middle and rear floor development project was successfully launched. The project body-in-white middle and rear floor adopts one-piece die-casting technology, the first time to achieve large one-piece die-casting parts body trial production, the trial production team concentrated on the hard work, seize the node, and finally achieve 15 days ahead of schedule to complete the trial production task.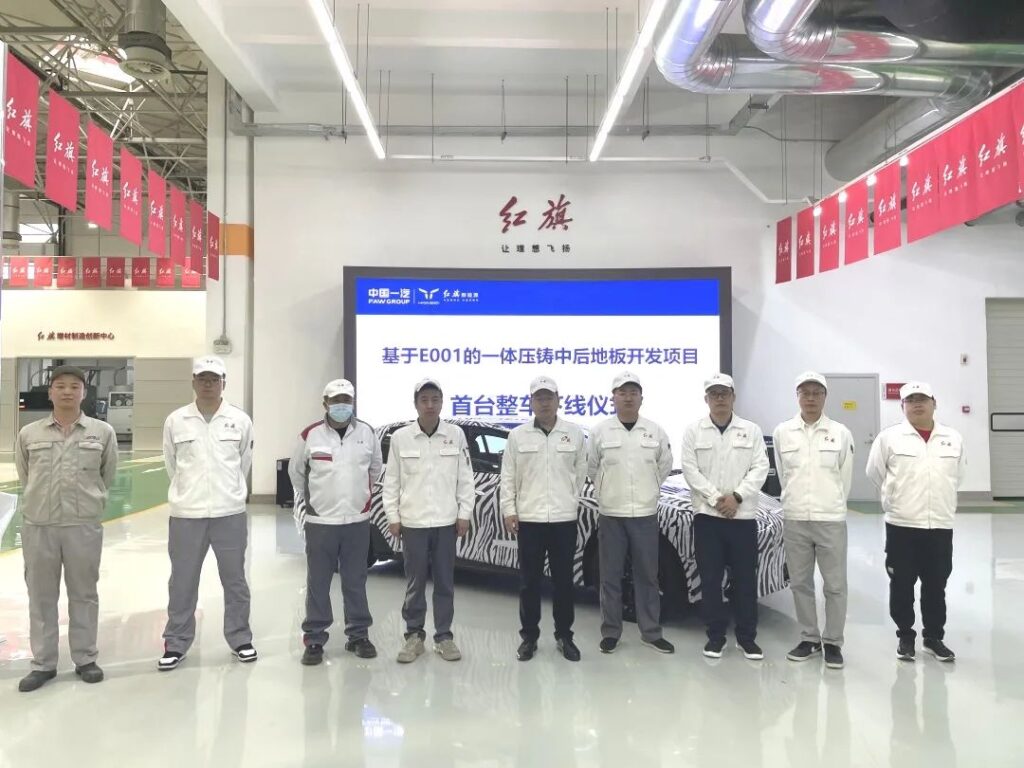 Product process solution validation
The one-piece die-cast centre and rear floor body-in-white pilot production technology involves a variety of lightweight body joining processes such as SPR, aluminium spot welding and high-strength riveting. The new joining process is very different from the traditional spot welding process in terms of equipment, process scheme, tooling scheme and process parameters, which poses a great challenge to the trial production work. In order to master the key technologies of the one-piece die-cast body pilot production, the pilot production department set up a special team for the one-piece die-cast middle and rear floors to overcome the key technical difficulties of the project.
Connection process test verification
The pilot production team analysed the connection structure of the product and sorted out all the connection combinations involved in the new process. Before the product is connected, corresponding connection specimens are prepared, and metallographic and mechanical property process tests are conducted for each combination.
Quality control during the trial process
Prior to the product trial, the team conducted connection tests on the official parts to map out the performance of the entire new process. In response to the test results, and in conjunction with the use of the trial prototype, the team developed countermeasures and measures in batches and steps to ensure that the qualification rate of the body connection points gradually increased and that the body met the needs of various tests.
Through relentless research and analysis, the team finally achieved a pass rate of more than 95% for the connection points of the new process, meeting the product verification requirements and laying the foundation for the subsequent tests. The verification of the product and process during the process provided technical support for the subsequent mass production of large one-piece die-cast body-in-white. In the future, the team will keep the righteousness and innovation to contribute to the control of key core technologies and build a world class enterprise.