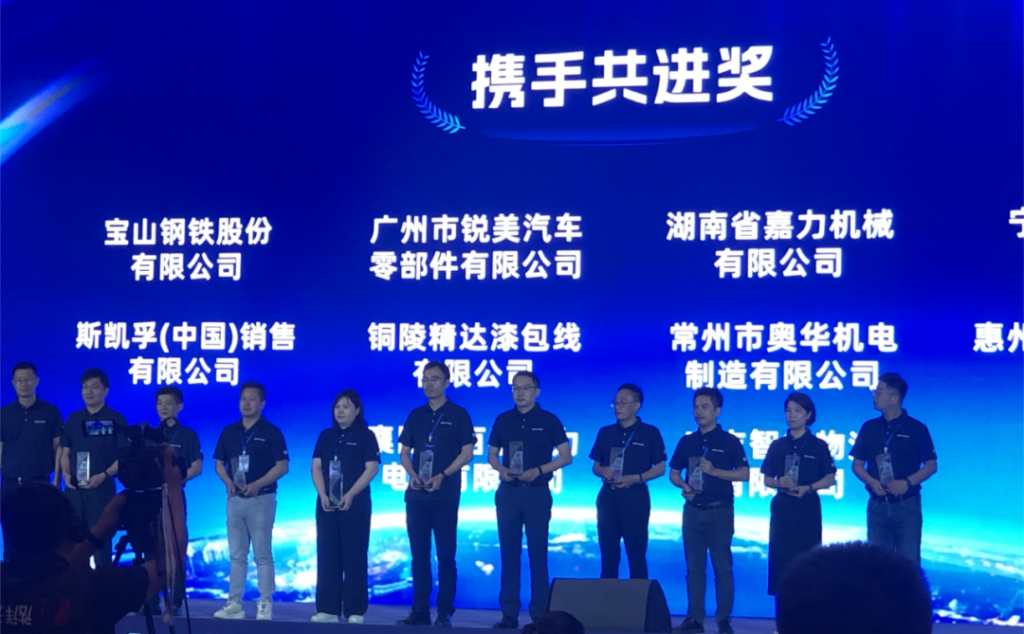 On 30th June, in order to further promote the high-speed and high-quality development of new energy automobile industry under the new situation, CMC Electric Drive practiced the development idea of "synergistic innovation, ecological win-win situation, and ocean-going dream", and invited SKF and other important partners to participate in the "Global Partner Conference of CMC Electric Drive Industry Alliance". "The conference was organised by SKF.
SKF has always had a close partnership with CSR for many years. This time, SKF won the 2023 "Hand in Hand Award", which is not only a recognition of the past year, but also reflects that both sides in the enterprise strategy and vision, jointly planning new energy automobile development planning and action paths, to build a community of destiny for the development of the industry, and work hand in hand to go to a new chapter.
He Yaping, General Manager of Automotive Division of CMC Times Electric, thanked the excellent suppliers for their support and looked forward to continuing to work together for growth in the future. He said, SKF accompanied the development and growth of the electric drive business of CMC, went through the wind and rain together, and made great progress. On the occasion of the fourth Global Partner Conference of CMC Electric Drive Industry Alliance, we would like to thank SKF again.
Adhering to the concept of rooted in China, technology leadership and reliable operation, SKF China continues to accelerate the localisation of the whole value chain, and always assists the development and transformation of customers with innovative technology and its own professional experience. At the same time, SKF China has accumulated rich experience in energy saving and carbon reduction, and continues to share these successful experiences with upstream and downstream partners, actively building a carbon reduction ecosystem, and working together to help achieve the goal of carbon neutrality.
If you are interested in any of the products mentioned in the article above, please send us an email totalsycn@gmail.com and we will look into your needs and provide a solution.