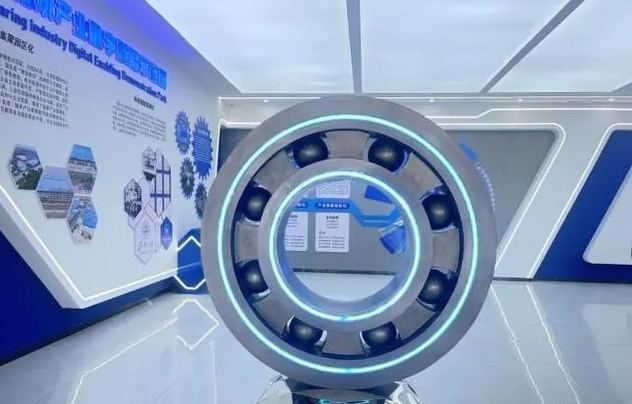 As one of the country's five major bearing industry cluster, Linqing bearing industry after nearly 50 years of sustained development, has become a manufacturing enterprises with more than 5100, more than 10,000 individual businesses.
Absorbing more than 200,000 people entrepreneurial employment, annual revenue of more than 50 billion yuan of the leading industries, Linqing bearing industry has been selected as Shandong Province's characteristics of industrial clusters, the top ten industries "geese" clusters, and was successfully selected as a national small and medium-sized enterprise characteristics of industrial clusters.
In recent years, Linqing City, focusing on the integration of production and talent, adhere to the "nesting" "phoenix" and give equal importance to the construction of talent platform carriers in the priority position, and vigorously build "industry + platform + talent" model, for the bearing industry talent officers and entrepreneurs. Model, for bearing industry talent officer entrepreneurship, innovation and creation provides a broad stage. From January to June this year, 84 bearing enterprises above scale in Linqing City achieved a total industrial output value of 2.19 billion yuan, an increase of 13.72%.
\\ School-enterprise co-operation, upgrading the "R & D chain"
July 14, in Linqing City, Yu Jie Bearing Manufacturing Co., Ltd. production workshop, an automated assembly line is running at high speed, two workers real-time view of the data on the electronic screen. Here, the real realisation of the production workshop intelligence, production progress digital, workshop data visualization.
Yujie bearing is Linqing City, a professional production of R & D and manufacturing of spherical roller bearings and cylindrical roller bearings of the enterprise, the company and Jinan University, Shanshan Steel Group, jointly established the "metallurgical equipment, high-end bearings R & D and innovation alliance".
From the production of raw materials, bearing design and manufacturing, application performance research to carry out research and development of metallurgical heavy-duty special bearings, and the pilot application of continuous casting machine in Shanshan Iron and Steel, to build up a "material supply – manufacturing – testing and evaluation" of the whole chain of technological innovation and service model The company has built up a whole-chain technological innovation service model of "material supply, manufacturing, testing and evaluation", which has effectively driven the bearing industry chain in Shandong Province. The company was also successfully approved by the provincial enterprise technology centre, provincial engineering research centre, and listed in the provincial postdoctoral innovation practice base.
In order to continuously upgrade the bearing industry "R & D chain", in recent years, Linqing City, through the implementation of "links to 100 schools and 100 enterprises" "the introduction of a hundred professors" project, to strengthen cooperation with universities and institutes of industry, academia and research. Use the mechanism of "reveal the list of commanders" to carry out joint project research, promote the transformation of scientific research results, and extend the bearing industry chain.
By holding high-level experts Linqing line, high-quality development of bearing industry in Shandong Province on-site meeting, digital empowerment Linqing bearing industry docking meeting, school and local talent attraction docking meeting, with Beijing University of Aeronautics and Astronautics, Henan University of Science and Technology, Qingdao University of Science and Technology, Shandong Luoxi more than 20 colleges and universities to establish a long-term cooperative relationship, and solidified the introduction of talent, technology research and development platform.
\\ Diversified docking, broaden the "industry chain"
"The original intention of the founding of the Bearing Chamber of Commerce is to effectively solve the problem of the small size of the bearing enterprise monolithic, talent attraction is not strong, the cost is higher." Linqing city party representative, young entrepreneurs Yang Haitao as one of the co-initiators, founded the Bearing Chamber of Commerce, the membership of the Chamber of Commerce from the beginning of the dozens of people increased to the current more than 500 people. The Chamber of Commerce shares talents in law, safety production, policy advice, and joint procurement, exhibition, management training, and regular observation of leading member enterprises.
At the same time, Linqing City, focusing on the advantages of the provincial bearing intelligent manufacturing innovation and entrepreneurship community, for enterprises to seek mechanical, friction, intelligent and other fields of high-level practical human resources and provide relevant supporting services, through the platform to form a benign closed-loop demand-side, supply-side, service-side, so that the scientific research experts, production enterprises, service third-party each have a good time to form a demand-driven, innovation-driven, industry-driven, government and enterprises interact with the A new pattern of development.
Since last year, by building a strong platform carrier, Shandong Luoxi, Shandong Harin Group Co., Ltd. was approved by Shandong Province, new R & D institutions, Yu Jie bearing was approved by the provincial engineering research centre, and listed on the provincial postdoctoral innovation and practice bases, Kemery Bearing Science and Dalian Polytechnic University to build the first batch of Liaocheng City, "Talent Enclave", Shandong Bote bearing Co. Shandong Bote Bearing Co., Ltd. was selected by the Ministry of Industry and Information Technology, the third batch of key small giant enterprise list.
\ Talent-driven, improve the quality of the "innovation chain".
"As small and medium-sized enterprises are constrained by the shortage of capital and talent, there are more restrictions on new product development, testing, experimentation and so on. To this end, we jointly with Jinan University to build Shandong Province bearing industry technology research institute, and with Liaocheng City Institute of Technology to carry out school-enterprise cooperation, the use of higher education talent and scientific research advantages, in scientific and technological innovation, high-tech achievements, scientific and technological information exchange, personnel training and other aspects of the bearing enterprise to provide a full range of services."
Linqing Yantian ZhiZhuang town responsible person Lin NaiShang introduction, the park enterprise can according to their own needs, the use of order mode, entrusted Jinan University for product inspection and testing, new product development, process improvement and other scientific research services. Both to meet the needs of enterprises, but also to reduce the enterprise's capital, talent, technology pressure, help the city's bearing industry upgrading and upgrading.
Linqing City, multi-measures to enhance the endogenous driving force of enterprises, the implementation of the whole life cycle of the ladder cultivation programme, the construction period of enterprises early guidance, focusing on cultivating start-up enterprises upgrading science and technology-based small and medium-sized enterprises, guiding the growth period of enterprises to declare high-enterprise, and give play to the role of innovation demonstration of the maturity period of the enterprise, the formation of the "small ascension, science and technology to rise high, high lead" development path. Path.
We have built the Bearing Intelligent Manufacturing Town, which integrates technology research and development, intelligent manufacturing, crowd creation space and talent training, and the Bearing Science and Technology Park of Wisdom Future, etc. We have made use of the industrial Internet, 5G, cloud computing, big data, Internet of Things, artificial intelligence and other technologies, and through the transformation and upgrading of the whole chain, we have realised the replacement of machines with human beings, the replacement of equipments, the replacement of lines, and the replacement of products. Line change, product generation. Linqing bearing industry has won the China Machinery Industry Science and Technology Award 4, with 50 national high-tech enterprises, 15 R & D platforms above the provincial level, 2 Liaocheng City Mayor's Quality Award, and has taken the initiative in the market.