Improved peel resistance, high speed and torque load resistance
Compact and high-speed coaxial e-Axle for harsh environments
NTN Corporation (hereinafter referred to as NTN) has developed the "In-line e-Axle Needle Bearing Unit for Planetary Reducers" for the e-Axle in pure electric vehicles (EVs) and hybrid vehicles (HEVs).
This product is a set of needle roller bearings (needle roller cage assembly) and planetary shafts. By improving the cage, needle roller and planetary shaft components, the product has improved peel resistance, high speed and torque load performance, making it possible to adapt to compact and high-speed coaxial e-Axle in harsh operating environments and contributing to fuel and power savings in vehicles.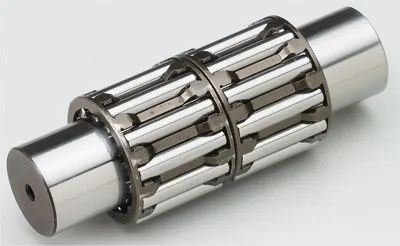 Needle bearing units for EV-HEVs with in-line e-Axle planetary gearboxes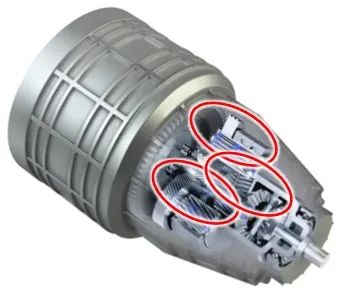 Coaxial e-Axle (this item is used in the red circle section)
Development backing
In recent years, as EVs and HEVs have been developed and become more popular, more and more vehicles are equipped with an e-Axle that combines an electric motor, inverter and gearbox as the main power source. Among the various types of e-Axle, the coaxial e-Axle with a planetary reduction mechanism uses needle roller bearings with low section height and high load capacity.
In order to improve the energy efficiency of the coaxial e-Axle, the viscosity of the lubricant is becoming lower and the oil film thinner. This can therefore lead to direct contact between the bearing track surface and the rollers (rolling elements), causing minor flaking and cracking of the bearing surface.
In addition, the fuel-efficient-electricity-saving process of vehicles has led to the miniaturisation and high output of the e-Axle, requiring high bearing speeds. To ensure a low noise level in the planetary reduction mechanism, helical helical gears with helical tooth lines are used, the inclination of the gears generating moment loads. In addition to this, the coaxial e-Axle uses stepped planetary gears in the axial direction in order to achieve large reduction ratios, resulting in long planetary shafts.
The planetary shaft tends to bend when subjected to loads. The moment load and the bending of the planetary shaft cause a rise in contact stresses near the chamfer of the bearing rollers, which leads to a shortened bearing life.