Wang Hui, President of SKF China and Northeast Asia, David Johansson, Global President of SKF Automotive Division, Chu Hao, President of SKF China and Northeast Asia Automotive Division, leaders from the Department of Commerce of Shandong Province and Jinan Municipal Government, Jinan High-tech Zone, as well as representatives from industry customers and partners attended and witnessed the ceremony.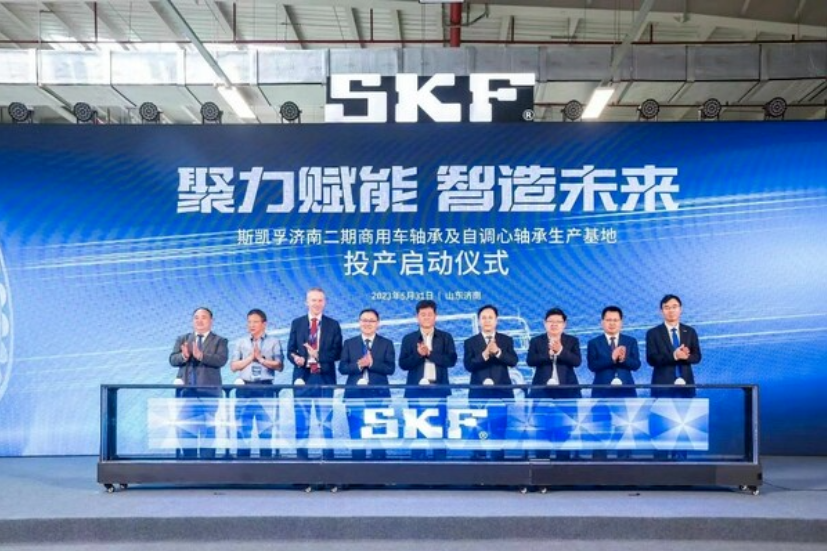 SKF Jinan Phase II Commercial Vehicle Bearing and Self-Aligning Bearing Production Base Launching Ceremony
"China is rapidly transforming from 'Made in China' to 'Made in China', vigorously promoting the development of manufacturing industries in the direction of high-end, intelligent and green. In response to the call to build a modernized industrial system, SKF has continued to deepen its localization of the entire value chain in China."
Wang Hui, President of SKF China and Northeast Asia, said, "The Jinan base is another integrated manufacturing base and technology centre deployed by SKF in China, as well as a strategic base for SKF Asia Pacific in the north. With the official commissioning of the second phase project, SKF will continue to contribute its advanced bearing technology and manufacturing experience, drive more quality resources to Jinan, create value for commercial vehicle and industrial customers, and contribute to the promotion of the local transformation of the old and new dynamics."
\\ Based on local service global, upgrade production capacity to help industrial development
During the opening ceremony, Ren Guangfeng, Deputy Secretary of the Party Working Committee and Executive Deputy Director of the Management Committee of Jinan High-tech Zone, said, "After twelve years of dedicated development, SKF (Jinan) Bearing and Precision Technology Products Co., Ltd. has continued to contribute a high level of manufacturing power and become a benchmark and model for economic and trade cooperation between China and Sweden…
SKF Jinan Base Phase II project has been successfully put into operation, which will surely give a strong impetus to technological innovation and product selection, and inject new momentum into the development of the city's high-end equipment manufacturing industry. Jinan High-tech Zone will always take enterprises as its priority and make progress together with them, give greater support, provide better services and create a better environment for enterprises, work hand in hand with them to achieve win-win development, and jointly build a leading high-end equipment manufacturing industry cluster in China."
SKF has been rooted in Jinan since 2010, and the first phase of the project was officially put into operation in 2012. Since then, it has served the Chinese, Asian and even global markets extensively, becoming one of SKF's most important commercial vehicle production bases worldwide. As the market demands more product variety and supply capacity, SKF invested in the second phase of the Jinan production base in 2021.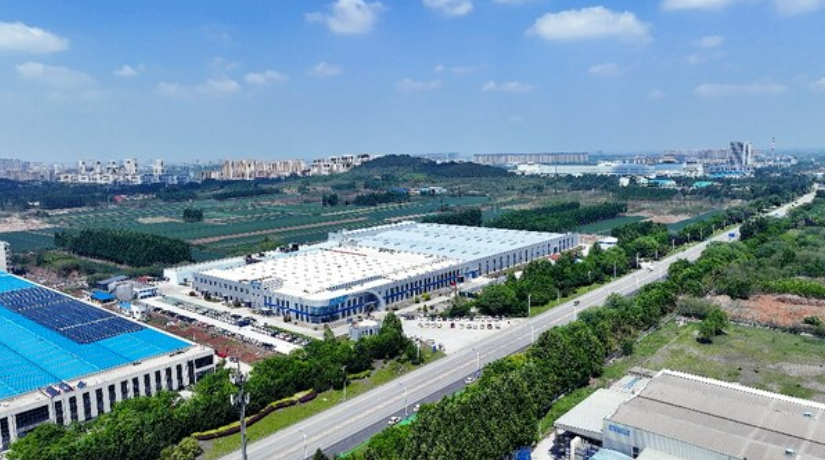 Panoramic view of SKF's Jinan production base
The second phase of the project not only adds a second generation maintenance-free wheel unit (THU2) production line to serve the commercial vehicle market, but also a new production line for self-aligning spherical roller bearings, SKF's world-leading core product for 100 years, to increase production capacity for commercial vehicles while expanding the service capacity of the Jinan base to a broader industrial market, helping SKF to provide support and services to global customers from a local base.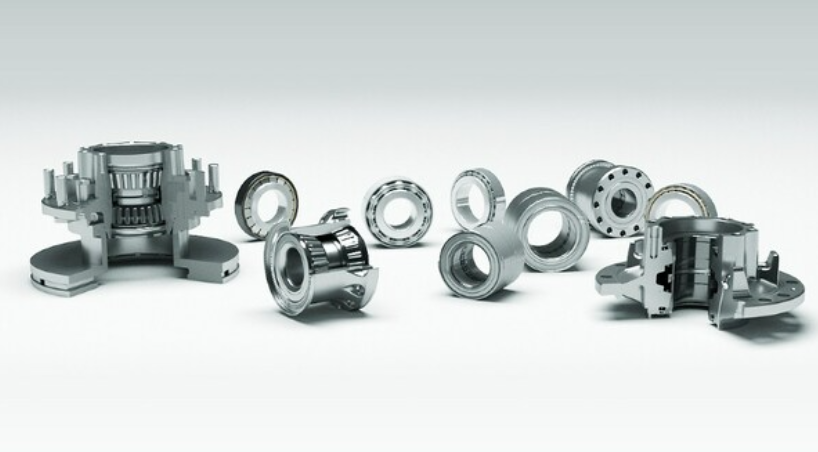 SKF product map
\\ Strategic partners join hands again to create a win-win situation for development
On the day of the opening ceremony, SKF signed a strategic cooperation agreement with China Heavy Duty Truck Group, under which SKF will use its global resources to support the international development strategy of Heavy Duty Truck, and both sides also indicated that they will cooperate in all aspects in the field of commercial vehicle products and technologies, and jointly explore a new road for the development of high performance and low energy consumption in the commercial vehicle industry.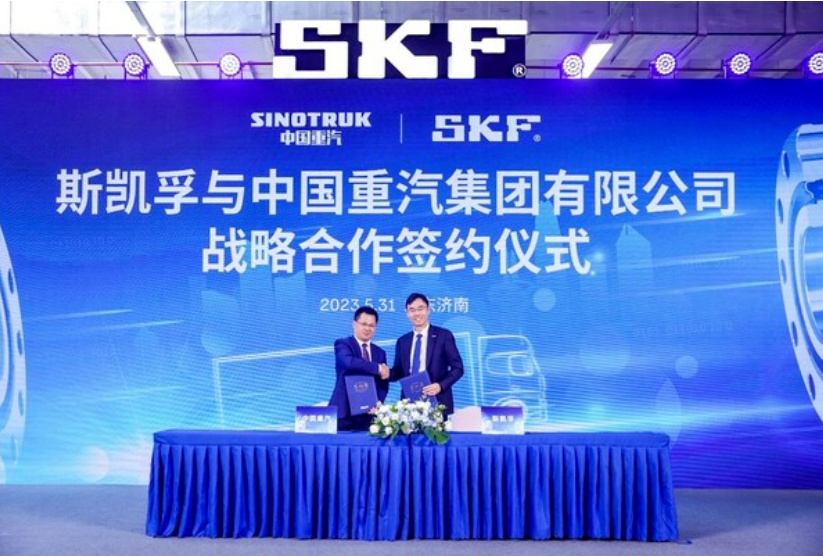 \\ SKF signed a strategic cooperation agreement with China Heavy Duty Truck Group
China National Heavy Duty has had a good cooperation base with SKF for more than ten years and has achieved many cooperation results. SKF not only provides quality solutions for CNHTC's electric drive axles, gearboxes and reducers, engines, new energy motors and axles, the two companies have also worked together on the joint development of a second-generation product for rear axles and will bring this innovative product to market in volume by the end of 2022. SKF has always been committed to providing comprehensive solutions for the commercial vehicle sector, and is willing to accelerate new product innovation through strong alliances with commercial vehicle partners such as SINOTRUK, to help the commercial vehicle industry develop in a high-quality and sustainable manner.
\\ Creating the "Factory of the Future" and promoting "Made in China"
The Jinan site is also one of the best practices of SKF's "smart" and "clean" development strategy in China. Since the completion of Phase I of the project, the Jinan site has been operating efficiently and productively while fulfilling its commitment to sustainable development through the application of cutting-edge manufacturing technologies and management practices, and has been awarded the title of "Green Factory" in Jinan and the LEED Gold certification. In the construction of the second phase of the project, SKF has started from various aspects such as intelligent manufacturing, optimising the energy structure and implementing systematic management to build the second phase of the project into a benchmark for SKF's "factory of the future".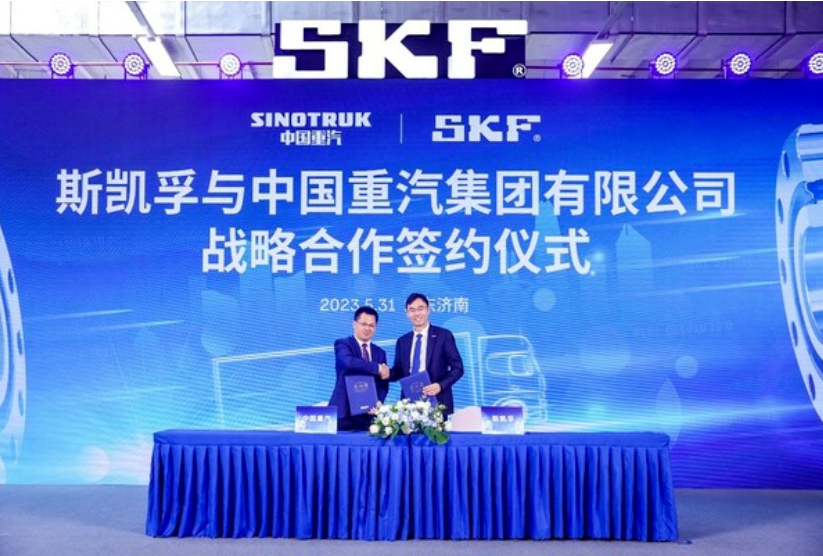 Production line at SKF's Jinan production site
The Jinan II project is also another milestone for SKF to efficiently serve the local market and continue to deepen its presence in China. As a company that has been in China for more than 110 years, SKF's presence in China is not limited to production bases, but has created a full value chain layout from manufacturing, technology development, market expansion to procurement and supply chain.
This month, the Jinan Phase II project was completed and put into operation following SKF's Changshan Phase II project, while the Xinchang Phase III project and Dalian Phase IV project are also under steady construction, which are expected to further enhance SKF's comprehensive capabilities in China, better position itself in China and provide quality products and services to customers worldwide.