On 1 November, Schaeffler Taicang Manufacturing Base New Energy Plant Phase II was officially opened in Taicang High-Tech Zone.
As one of Schaeffler's key investment projects in China, the opening of the second phase of the plant will further enhance the company's local production capacity in China, accelerate the development of new energy automotive business, and better serve the local Chinese customers and market.
On the same day, Schaeffler Taicang Manufacturing Base New Energy Phase II Opening and Phase III Signing Ceremony was held. Liu Xiaotao, Secretary of Suzhou Municipal Party Committee, met with Schaeffler Group's family shareholder and Chairman of the Supervisory Board, Georg F.W. Schaeffler, and his delegation and attended the ceremony together.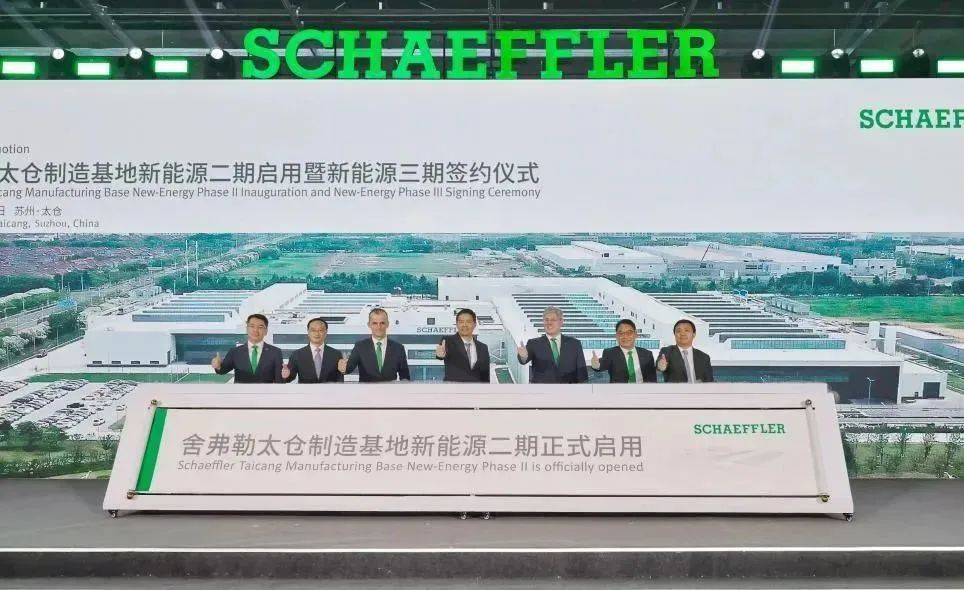 Representatives of the Schaeffler Group family shareholders, Schaeffler Group and China management, as well as relevant leaders from Suzhou and Taicang municipal governments attended the inauguration ceremony.
At the opening ceremony of the new energy plant phase II, Schaeffler signed an investment agreement with Taicang Hi-Tech Zone for the new energy project phase III, which will continue to strengthen its new energy business and expand its investment in China.
In his speech, Mr George F.W. Schaeffler, family shareholder and Chairman of the Supervisory Board of the Schaeffler Group, reviewed the history of Schaeffler's investment and development in Taicang, expressed his gratitude to the government, and emphasised the importance of the Chinese market to the Schaeffler Group and its commitment to long-term development in China.
Dr Zhang Yilin, CEO of Schaeffler China, said that Schaeffler is always optimistic about the development in China and Taicang, and will continue to increase its investment in new energy business to contribute to the high-quality development of the real economy.
Wang Xiangyuan, Secretary of Taicang Municipal Party Committee, said that he will, as always, support the development of Schaeffler and other enterprises in Taicang, provide precise and efficient services, and provide a quality living environment and cultural, medical and educational conditions for the employees of the enterprises, so that the hands of Taicang and Schaeffler will be shaken more and more tightly and the friendship will become deeper and deeper.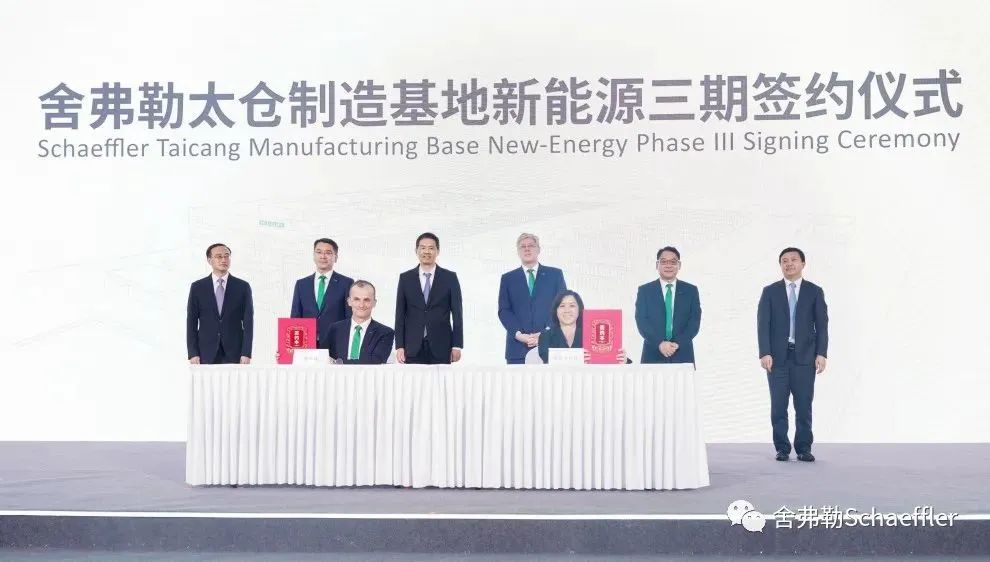 Mr Mathis Tsingk, CEO of Schaeffler Group's Automotive Technology Business Unit, and Mr Mao Yaping, Member of the Standing Committee of Taicang Municipal Committee and Secretary of the CPC Working Committee of Hi-Tech Zone, signed the agreement on behalf of both parties.
Taicang New Energy Plant Phase II
Located in the new Schaeffler Taicang manufacturing base on Beijing Road in Taicang Hi-Tech Zone, the New Energy II plant is mainly engaged in the manufacturing of core components for new energy vehicles, such as motor stators and rotors.
As an important extension of Schaeffler's new energy Phase I plant on Suzhou Road in Taicang, after the opening of the Phase II plant, Schaeffler will form a full range of production capacity for new energy electric drive products in Taicang, including hybrid modules, drive motors and their components, as well as the complete set of electric drive axles, etc., thus laying a solid foundation for the growth of new energy business.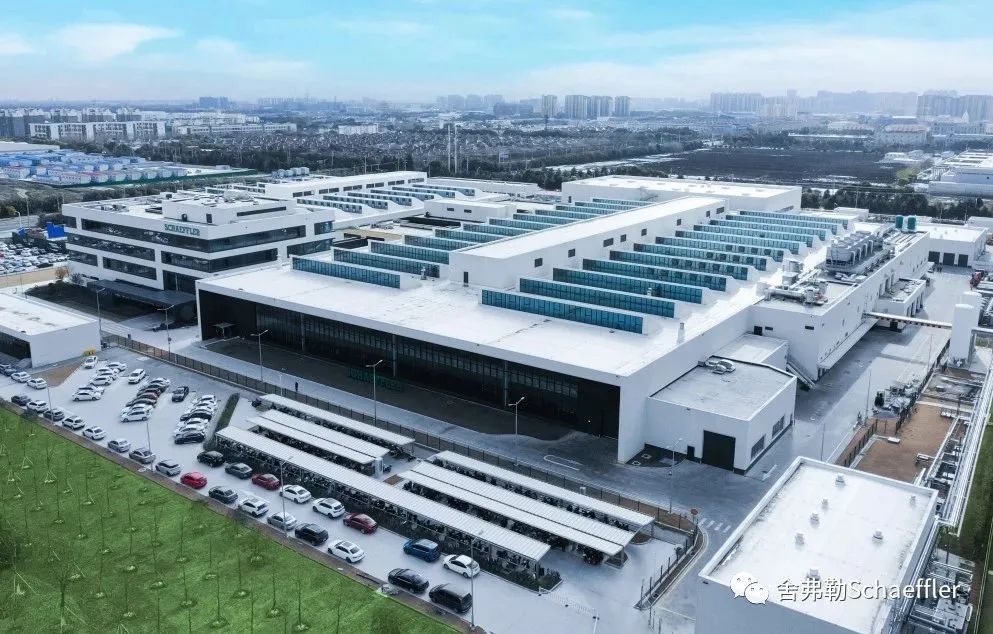 Aerial view of Schaeffler's new manufacturing base in Taicang
As one of Schaeffler's global digital benchmark factories, the new energy phase II plant has the vision of creating an end-to-end digital factory, and fully realizes digital and intelligent upgrades through advanced technologies such as data control centre, paperless operation, AGV logistics and transportation, and AI visual inspection.
In addition, the Phase II plant also adheres to the concept of sustainable development, and is committed to building a green, low-carbon, intelligent and environmentally friendly modern factory throughout the life cycle of the project design, construction and operation through measures such as waste heat recovery, rainwater collection, wastewater utilisation, intelligent lighting, and rooftop photovoltaic power generation, etc., from the construction of the plant, optimisation of the production process, and the use and management of energy.
The newly-opened Phase II project mainly mass-produces flat-wire motors and new energy key systems and components, while the newly-signed Phase III project, with a total investment of 200 million euros, provides product support for headline automakers. After the second and third phase projects are fully commissioned, Schaeffler Taicang manufacturing base is expected to add more than RMB 5 billion in annual output value.
Schaeffler is a globally renowned auto parts supplier. Since investing in Suzhou in 1995, the company has increased its investment 13 times to build a production base in Greater China, with an annual output value exceeding RMB 20 billion.