On April 20, the world's largest tower crane, which incorporates 158 innovative scientific research achievements and 305 invention patents, rolled off the production line at Zoomlion's Changde Tower Crane Smart Factory, which is another self-breakthrough of Zoomlion and another historic breakthrough in the development of advanced manufacturing in China. It will provide more advanced solutions for China's industrial heavy-duty and construction industrialization, and further enhance the influence and competitiveness of Chinese brands in the global tower crane field.
Cao Zhiqiang, Secretary of Changde Municipal Party Committee, announced the official launch of the product and launched the ceremony together with Mr. Rui Kai, Secretary of the Party Committee and Chairman of the Board of Directors of CCCC No.2 Navigation Engineering Bureau Limited, and Mr. Zhan Chunxin, Secretary of the Party Committee, Chairman and CEO of Zoomlion Heavy Industries. The ceremony was presided over by Zhou Zhenyu, Deputy Secretary of Changde Municipal Committee and Mayor. Tang Shaofang, Vice President of Zoomlion and General Manager of Construction Hoisting Machinery Company, delivered a speech. More than 600 people witnessed this historic moment together with relevant leaders from Changde city and district governments, senior management team of CCCC Second Naval Engineering Bureau and Zoomlion, as well as industry associations, industry experts, leaders of safety supervision stations, representatives of construction units and customers from all over China.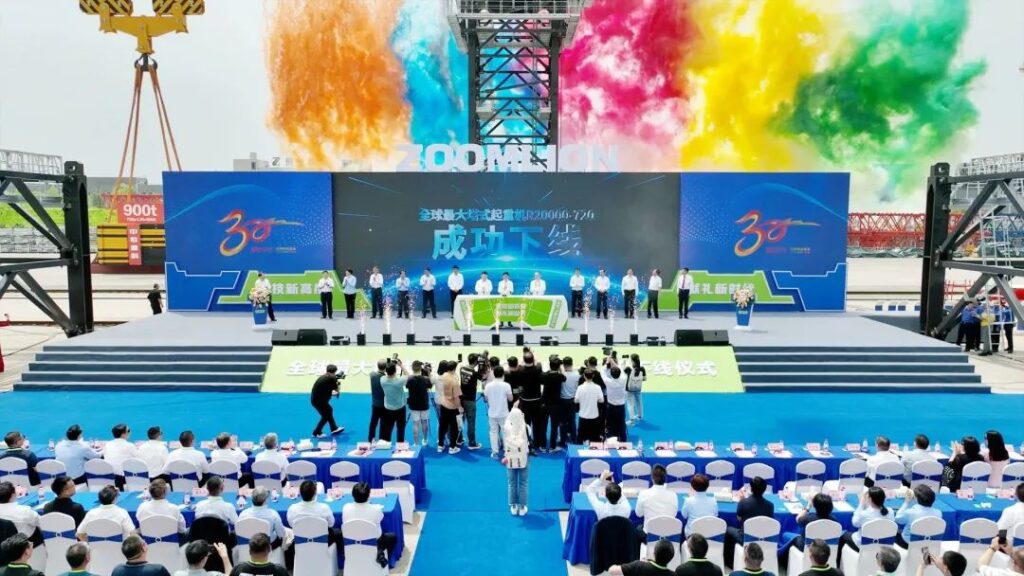 ▲The scene of the launching ceremony
Big national heavy equipment helps build national super projects
The world's largest tower crane R20000-720 is jointly developed by Zoomlion and CCCC No.2 Bureau of Shipping and Engineering, with a rated lifting moment of 20,000 tons meters, a maximum lifting capacity of 720 tons and a maximum lifting height of 400 meters, which is equivalent to lifting 500 cars to a height of 130 floors at one time. The product incorporates 158 innovative scientific research achievements and 305 invention patents, including more than 60 core key technologies and 12 world firsts, reaching the pinnacle of the world's tower cranes, making it a truly great weapon.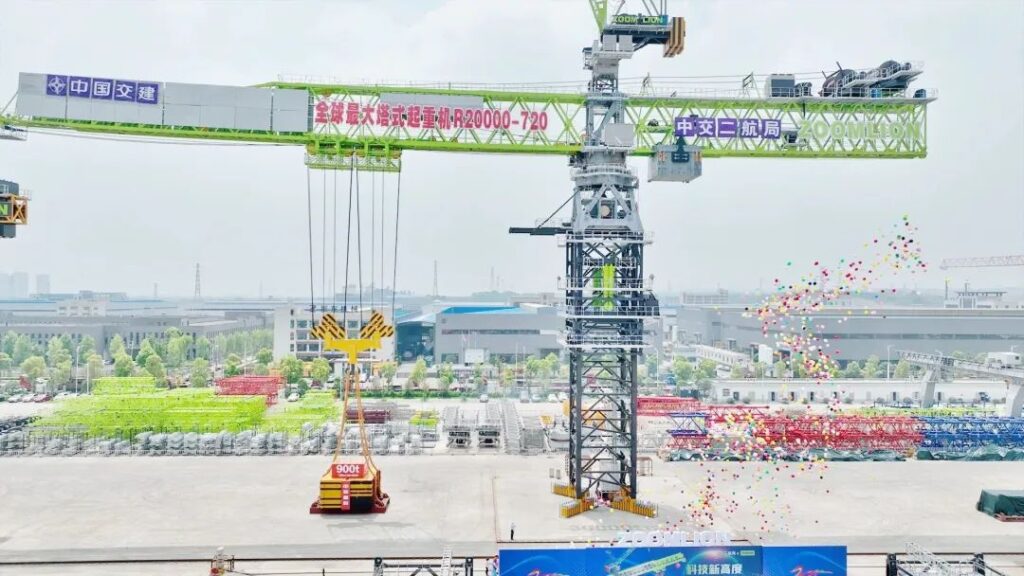 ▲The world's largest tower crane R20000-720
It is understood that after the delivery of R20000-720, it will be used in the construction of the world's largest span three-tower cable-stayed bridge – Maanshan Public-Railway Yangtze River Bridge project.
Maanshan public-rail Yangtze River Bridge adopts a three-tower steel truss girder cable-stayed bridge structure, of which the CMSG-2 bidding construction mileage DK51+687 (Yangtze River Bridge main bridge) ~ DK57+329.218 (Yangtze River Bridge F1 pier centre), the total length of about 5642.218 metres, mainly contains the south main tower and 1 km main bridge superstructure, approach bridge 114 public-rail The R20000-720 is fully capable of lifting the steel structure of the bridge tower and will provide a solid equipment guarantee for the project.
The "world's strongest" with the best technology
"Our R20000-720 has made innovations and breakthroughs in various aspects such as counterweight technology, structural technology and intelligent control technology, solving a number of world problems in the operation of super-large tower cranes under complex and extreme working conditions such as strong wind, high humidity and heavy load." The relevant person in charge of Zoomlion Heavy Industry said. The application of these technologies has made the "world's largest" the deserved "world's strongest".
According to him, the R20000-720 uses Zoomlion's industry-first mobile counterweight technology, which allows the counterweight to move precisely with the changes in lifting torque, achieving a substantial improvement of more than 60% in lifting performance.
In addition, the R20000-720 also has an innovative high load-bearing lightweight structure configuration and heavy-duty split structure design, which can reduce the weight of the tower crane's superstructure by more than 20% compared with conventional solutions while ensuring high load-bearing capacity, solving the difficulties of transportation, loading and dismantling, and making it more convenient to use.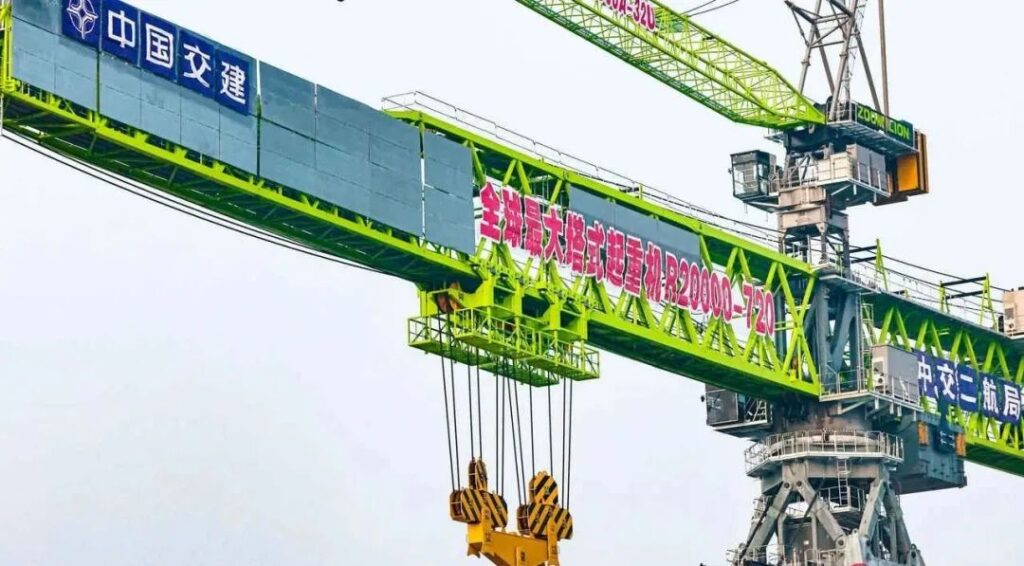 ▲The world's largest tower crane R20000-720
And in order to make the heavy equipment more sensitive, Zoomlion has also put in a lot of efforts on intelligent control technology. The multi-source information fusion ETI intelligent control system, with 230 intelligent control strategies and 50 intelligent technologies, achieves millisecond response, making the R20000-720 "big" and "stable" while achieving "Fast" and "accurate".
The successful launch of the R20000-720, the world's largest tower crane, signifies that Zoomlion has mastered the mature large tower technology and is at the forefront of the industry's development.
Intelligent Production Line Empowers Big Tower Manufacturing
As a new record for the "world's largest tower crane", its manufacturing is not a larger volume of work, longer production cycle? For this question, the relevant person in charge of Zoomlion said, "the overall implementation of the R20000-720 project work hours amounted to 33,280 man-days, equivalent to 120 people working continuously for 10 months. But through intelligent manufacturing, focusing on controlling 8 types of key control works and evaluating and developing 18 parallel works, it took only 8 months from design to production line, which is 2 months faster than the W12000-450 which set the record for the fastest delivery cycle, creating another speed miracle."
After 67 years of extreme exploration, Zoomlion has continued to accumulate, breakthrough and sublimation in the field of construction machinery, creating the world's leading R&D and design platform, which is called the "Free Kingdom", and building the world's largest intelligent factory for tower cranes, leading product upgrading with intelligent manufacturing.
It is understood that Zoomlion's tower crane intelligent factory currently has 40 intelligent production lines, including 12 unmanned black light production lines. With the support of intelligent production lines, flexible tooling, high-precision heavy processing equipment, and the input of nearly 1,000 big tower craftsmen, Zoomlion's large tower crane manufacturing capacity has achieved a quantitative and qualitative breakthrough. At present, Zoomlion's tower cranes intelligent factory has been able to achieve full coverage of 13 models of large tower cranes from 500 to 20,000 tons meters, and the products produced can meet almost all the current lifting weight requirements of large cranes.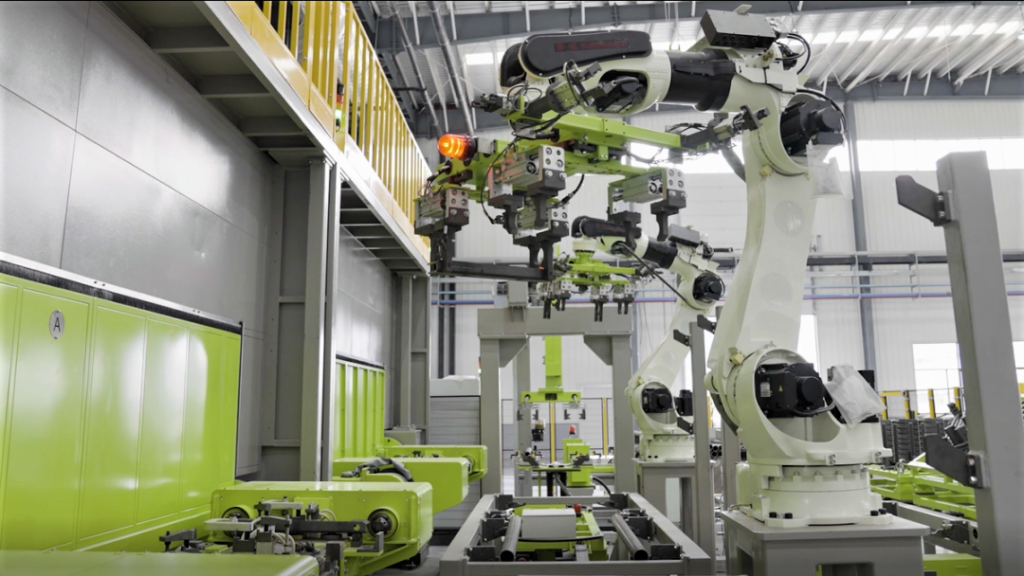 A view of the production line of Zoomlion's Changde tower crane intelligent factory
The ultimate product performance strength brings hot market performance. Many of Zoomlion's large tower cranes have long been standing tall on China's great rivers and streams to help construction. At the ceremony, Zoomlion also held a signing ceremony for a series of large tower cranes, which will contribute to the hot construction in China and ensure the smooth implementation of many major projects after delivery.
It is reported that Zoomlion's market share of large towers is in the absolute leading position in the industry, and it is the manufacturer of large towers with the most deliveries and the strongest production capacity in the world, and there are dozens of oversized towers being produced in the tower machine intelligent factory at the same time.
If you are interested in any of the products mentioned in the article above, please send us an email totalsycn@gmail.com and we will look into your needs and provide a solution.