On April 13, Yuchai Engine Liuzhou Project Signing Ceremony was held in Wenchang Conference Center of the city, where Liudong New District, Guangxi Yuchai Machinery Co.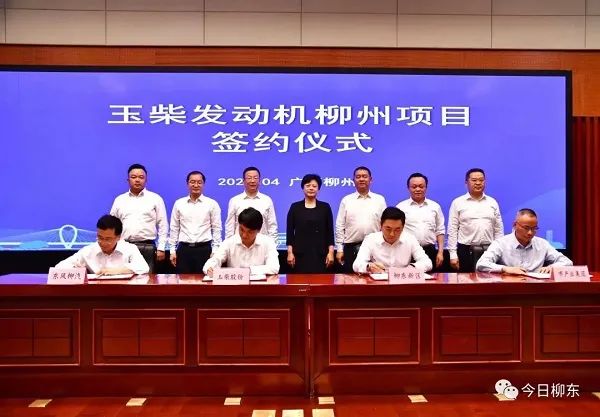 Deng Juanjuan, member of the Standing Committee of Liuzhou Municipal Committee and Minister of United Front Work Department, Zhang Guoliang, member of the Standing Committee of the Municipal Committee and Vice Mayor, Xuan Ying, Secretary of the Party Committee of Dongfeng Liuzhou Automobile Co Ltd, Zhou Yunxiang, Chairman of Liuzhou City Industry Group, Wu Qiwei, President of Guangxi Yuchai Machinery Co Ltd and other leaders attended the ceremony.
The Yuchai Engine Liuzhou project is planned to have an overall capacity of 40,000 units/year, with an estimated investment of 200 million yuan and a green and intelligent digital factory to be built in two phases. The project is located in the eastern part of the commercial vehicle base of Dongfeng Liuzhou Automobile in Liudong New Area, and will provide better local support to Dongfeng Liuzhou Automobile in terms of performance, quality, cost and technology, and provide better security for the industrial chain of Dongfeng Liuzhou Automobile.
Liuzhou Auto and Yuchai are both sister enterprises in the automotive industry in the autonomous region, with similar regions and cultures, and the two sides have a relatively deep cooperation and friendship. Since the "conversion of trucks to diesel" in the 1990s, the two sides have been cooperating, and in 2016, the cooperation between Yuchai and Liuzhou Automobile was upgraded, with Yuchai and Liuzhou Automobile discussing with Dongfeng Liuzhou Automobile on engine displacement, power, torque, speed, fuel consumption, weight and NVH index setting. 2020, Yuchai and Dongfeng Liuzhou Automobile signed a to further deepen the strategic cooperation agreement, linking cooperation in five areas: joint planning, joint development, joint manufacturing, joint marketing and joint service, and providing customers with a complete solution from power to complete vehicles by creating an integrated cooperation program.
This project is a concrete embodiment of the strategic cooperation between the two sides and a vivid practice of Yuchai's gratitude to its customers.